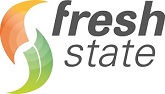 Address:  Market Box 36, Store 36, 35 Produce Drive, Epping, 3076
Phone: 03 94086627
Fax: 03 84013690
Email: [email protected]
Webmail: www.freshstate.com.au
Fresh State Ltd is a membership organisation for tenants and industry associates of the Melbourne Wholesale Market.
Formerly known as the Victorian Chamber of Fresh Produce Wholesalers Inc, Fresh State exists to:
Unite and preserve unity amongst wholesalers of the fresh produce industry in Victoria
Encourage communication and co-operation with other associations and industry groups engaged in the fresh produce industry
Promote the benefits of fresh produce to retailers and consumers
Protect and promote the interests of all members in matters affecting their business and trading operations in Victoria
Make representation to any government association or industry authority on behalf of members in respect to any issue or regulation which may affect the interest of members.
Fresh State Services include:
Data Fresh – the price reporting of wholesale fresh produce prices in the Melbourne Wholesale Market. Prices are available for all produce on a daily, weekly or monthly basis.
Fresh State of Affairs Magazine – Fresh State produces the very popular bi monthly Fresh State of Affairs It is produced for Fresh State members and the fruit and vegetable industry to keep them up to date with the latest information available in the market place and the industry.
Credit Service – the Melbourne Markets Credit Service is a professional service assisting sellers and buyers of fresh produce both in Victoria and interstate to buy and sell using credit in the Melbourne Markets.
Market Freight Management – manifest data of incoming market product volumes available free of charge to Fresh State members.
Events – social and networking opportunities for our members through our annual events such as the Fresh State Ball, Fresh Connections and our Forklift Challenge.